Google provides an awesome feature of 360 Business Photos, where you can showcase your business premises in 360 degree photos. Also user can click and navigate in each corner, Zoom in Zoom out and can have feel of the place, without physically been there. 
We are certified by GOOGLE to click and post 360 business photos and link them and create a virtual tour. We are also authorized to correct any misleading of your business address, map location, map labeling, update address, phone number etc.
360° Photography: How Your Business Can Benefit from a Virtual Tour
Technology's greatest contribution to today's modern world is that businesses are able to generate innovative methods to attract customers. For any type of business with a store front presence, one of these advancements is 360° Photography, or virtual tours. You might be familiar with 360 photography from years ago, but today, it is becoming an increasingly effective tool to enhance your Google footprint. Google Street View is one of the best examples of 360° photography that helps businesses visually express their physical space.
Before we dig into how businesses can benefit from 360° photography and Google Street View, we'll first explain what they are.
What is 360° photography?
360° photography is a technique where specialized equipment is used to capture the entire surroundings of a location. This ability of being able to capture the entire surroundings is a combination of software and panoramic photos. 360° photography has the ability to effectively show photographs from the photographer's point to a mile or so. It is best and very effective to show off sceneries, businesses, stores, or tourist spots using 360° photography. It gives the users a virtual tour of the place or area through their computer or mobile device.
What is Google My Business?
Google My Business is a free and easy-to-use tool for businesses, companies and organizations to manage their online presence across the search engine, Google. This includes Google Search and Google Maps, and under Google Maps, you can find Google Street View.

here is how your business listing appears on google (a sample)
Customers may also read and leave photos reviews about your business. While in your end, you can respond to their reviews and add photos too! Google said that businesses that has photos in their listings received 42% requests for driving directions on Google Maps and gets 32% more click through their website. Google My Business helps understand your customers and expand your presence by making it visible in search engine results.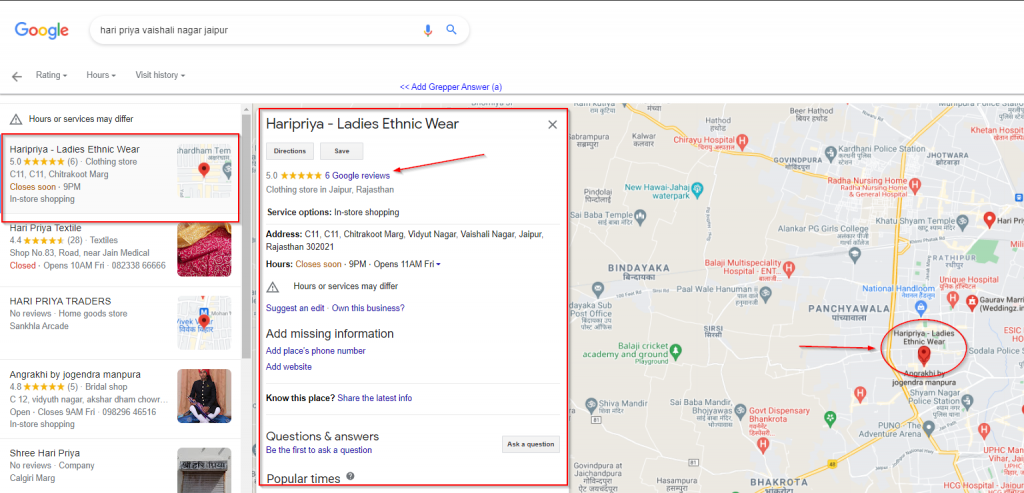 Let us head over back to our Google's feature of 360° photography. If you are interested on how you can achieve a Google approved 360° photography, here the important things you need to know..
How Can My Business Benefit from Google Street View?
Google Street View's 360° photography or virtual tours can help your business in different ways. Did you know that businesses are excited to have this type of feature that can help enhance their business's look and feel. As mentioned above, it is becoming an in-demand service. It can help differentiate your business from the competition.
This comes in two categories, exterior and interior. Exterior is the most common one on Google Maps. It usually shows store fronts, streets, building, or anything that can be found outside. Interior shows the inner part of a store, company or business. It gives users a virtual tour of what your business is on the inside!
Here are more things you need to know about the different benefits your business will get from these features that Google offer.
1. Increase Engagement
Users will be more likely to click and interact with your listing. Some people are interested on what is new. If you have a new user that searches up for your place on Google, and you offer a view of your store from the exterior, there is a 42% probability of that user to be converted into a customer!
2. Stand Out from Competition
When your competition offers similar goods and services, beat them on your integrated technology with a virtual tour posted to your Google My Business profile and your website! These are unique experiences that not many businesses are taking advantage of. This could be an effective new approach to gain your potential customers.
3. Unique Experience
Giving your users a virtual tour allows them to experience something new that most businesses do not have or even know exist. This 360° photography makes it convenient for your customers to "feel" the layout before they arrive.
4. Be a First Mover
Similar to people, first impressions matter when it comes to business, no matter your size. When you offer an immersive 360° Virtual Reality tour, you are steps ahead from your competition. You are giving your potential customers a look of your business from the comfort of their home and office.
5. Cost Efficient
Google My Business and a 360° virtual tour are priceless and can be yours for under $1,000. The upload is permanent and only needs to be updated after renovations.
Hire a 360° Google Street View Photographer
Save on the costs of purchasing the hardware and monthly software fee's. Focus on running your business while a professional 360° photographer takes care of your needs.
Customers find ways to make life easier for themselves starting with vendor selection. The easier you make it for the customer the faster you will build their trust. Providing this feature offers which are the virtual tours and 360-photography adds credibility and transparency to your business.
Feel free to contact us today for professional 360° photography and let us help you improve your business's online presence!